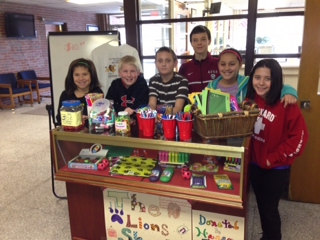 Members of the Lion's Den and Principal Knowles are proud to announce that the Veterans Park School Store ~The Lion's Shack~ will celebrate its grand opening on Monday, January 27th at 8:15am. This new addition to the Veterans Park Community has been a journey filled with educational merit and life lessons for all of the students involved. It began with the members of The Lion's Den meeting once a week for 10 weeks with Mrs. Sharon Dufour, CFO Luso Federal Credit Union and Mrs. Rosemary Jorge, Co-adviser to learn the process of starting a small business. Students learned how to write a business plan, who their target customers and competitors would be, and what their niche was. The process was completed when the students applied for, and were granted, a loan from The LUSO Federal Credit Union enabling them to purchase the merchandise to stock the store shelves. With a donation of a display case from Hannoush Jewelers the plans for the storefront were finalized, merchandise purchased, priced, and the scheduling of the grand opening date secured.

Members of the Lion's Den are very appreciative of the support they received from Superintendent Todd Gazda, Principal Melissa Knowles and Mrs. Sharon Dufour, CFO of Luso Federal Credit Union. A special thank you goes out to the Co-Advisers for the Lion's Den, Mrs. Rosemary Jorge and Mrs. Amy Harris. It is their continuing belief in these motivated students that helped put all of the pieces together; making the dream of a school store at Veteran Park Elementary School a reality.
The Lion's Shack will be open for Vets Park students/parents and staff on Mondays ONLY from 8:15am-8:45am, and also during periods 4 and 5. All members of the Lion's Den will help with the running of the store. They are very excited and proud to see their hard work come to fruition and are looking forward to being the district's newest entrepreneurs!

Please click here to view the Lion's Shack price list and here to view the catalog.